We're sure you'll be interested in what we've been up to – not only images of our projects but most importantly information about how they work. And, how satisfied our customers are. Feel free to judge for yourself.
We cover a wide range of services in the field of furnishing buildings with technical equipment
30 years of responsible work in the name of technological progress
We're within reach and always ready to provide quality service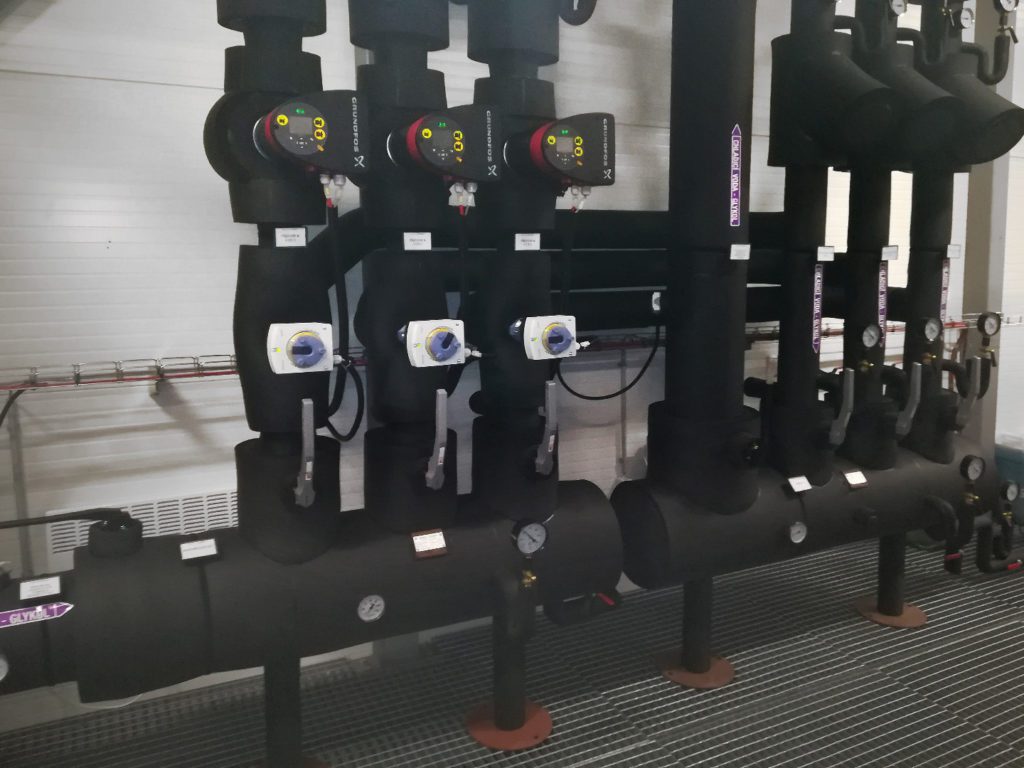 Installation of two 2 x 188 kW compact refrigeration units as cooling...
more
Our most important corporate policy goal is to provide high-quality work. The demand for high-quality standards has led us to improve our services, adapting them to the latest trends. As a matter of course, we provide our employees with professional training, and, since 2003, all company processes have been managed in accordance with a quality management system.

ISO 9001 and 14001 Certification
Termomont s.r.o. has secured a quality management system for both plants (Nedošín 128 in Litomyšl and Nové Sady 31 in Brno). The certificate was obtained for the first time in 2003 and has been maintained since then.
Termomont s.r.o. has been verified and recognized by the accredited certification body LL-C (LL-C Certification Czech Republic s.r.o., Pobřežní 620/3, Prague) in compliance with the standards ČSN EN ISO 9001:2015 and ČSN EN ISO 14001:2015. Both certified quality management systems are valid for the following activities:
Manufacturing and installing designated gas equipment, sanitation technology installation, industrial cooling, and central heating.
Installation, repair, and reconstruction of refrigeration equipment and heat pumps.
Installation, maintenance, repair, and modification of HVAC equipment.
Wholesale and retail sale of heating and plumbing materials.
Download the certificates in PDF format:
ISO-9001
ISO-14001
ISO 9001 and 14001 Certification
Termomont s.r.o. holds a Czech Entrepreneur Certificate, which allows access to classified information of the highest classification level: "CONFIDENTIAL."
The certificate was issued by the National Security Office of the Czech Republic, Prague, pursuant to §121 of Act No.412/2005 Coll. under ID no. 001704.
ISO 9001 and 14001 Certification
On Dec.13, 2012, the Technical Inspection of the Czech Republic, U Balabenky 1908, Prague, granted us a new authorisation for installing and repairing designated equipment. Our professional staff undergo periodic training in fields that require this in accordance with the applicable standards. All professional training dates are monitored on the basis of ISO 9001 Quality Management.
Welding licenses:
EN 287- 1 311 T BW 1.1. S t2,0 D17,0 H-L045 ss nb lw (national test)
EN 287- 1 311 T BW 1.1. S t4,0 D50,0 H-L045 ss nb lw (national test)
ZK 01 311 V, Ltd. 912-9 31 Z – E1; G1 Z-
Retraining – CSN 05 0601, CSN 05 0610
Familiarity with Decree No. 87/2000 Coll. on the installation and repair of designated gas equipment – certificate for the activities of installing and repairing designated gas equipment
Training for crane operators and slingers, lifting equipment